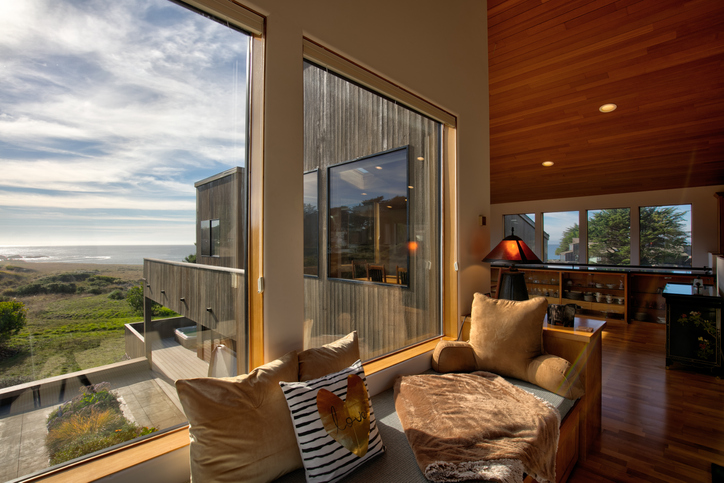 There's something about having a house on the lake that eases both body and mind. From placid waters, to the chirping of birds and the gentle lapping of waves on the shore, to the quiet rustling of trees from a breeze – all evoke relaxation and an escape from the stresses of everyday life.
Ideally, what's inside your lakefront home should reflect the environment it's in. A sense of coziness and calm evoked by your layout and décor.
Here are a few ideas to help you achieve the ultimate no-stress-zone retreat:
Focus on the gorgeous views
Make the most of your gorgeous lake views. Install drapes you can easily slide open for unobstructed views whenever you want it. You can also help keep the view the focal point of a room by selecting a neutral color for your walls and furnishings. If possible, arrange the sofa so that it faces the window or create a second, more intimate grouping that invites one-on-one conversations with a view of the lake.
Let in as much natural light as you can
There's something about natural light that brightens up a home the way artificial lighting cannot. A picture window will obviously bring outside light in – but so will other interior design tricks. Eliminating dark beams or painting them white will better reflect outside light sources. Walls should also be in bright neutrals.
Color cohesion
Help create cohesion in the rooms of your lake house by using monochromatic colors on your walls, paneling, and trim. You can punch up each space using contrasting home accessories.
Make sure there's plenty of seating
Lake houses are perfect for hosting family reunions or a getaway with friends. In order to accommodate larger parties, make sure that there is plenty of available seating. In addition to sofas and chairs, you can add cushions to a bay window, ottomans near the hearth, or beanbags in front of the TV. Choose seating that requires little maintenance, or something you can store or cover up easily if you're using your lakefront property as a vacation home. 
Additional sleeping spaces
If you have kids, or envision yourself hosting reunions and weekend parties with friends in your lake house, bunk beds are one way to go.  If space permits, you can install two sets to a room. If you have a guest room, add a modern chaise that can double as a bed. But if you think you'll have more guests than a proper bedroom can accommodate, then have sleeping bags and tents on the ready. Make the temporary sleeping accommodations fun by creating a camping vibe your younger guests will enjoy.
Work with what you already have
You don't have to do a complete renovation to update a lake house. Instead, you can work with what's already there. Refinish floors for a fresh look. Apply a fresh coat of paint on the walls. Or, you can simply replace appliances and furniture, and update your home décor and accessories.
Add something rustic
Use local stone for your hearth. Replace the kitchen sink with a modern farmhouse sink. You can also stain your deck into a darker color, or give your lake house a more rustic appearance by exposing your ceilings. Consider a farmhouse dining table or making a coffee table from reclaimed wood.
Bring the outdoors in
It's always refreshing to see nautical touches in a lake house – but make them vintage; you can scour local shops for finds. The nature that surrounds your lake house provides you with other great options like local plants you can grow in pots and bring indoors. Fill vases with seasonal blooms or tall elegant greens like a philodendron.
A lakefront property is the perfect spot to rest, relax, and rejuvenate. The décor of the house can help just as much as the nature outside. Whether you're looking for a lakefront property to live in or rent out, we can help you find the perfect spot in Montgomery County, TX. Contact us, the Lady of the Lake Team, today to get started. Call 936.525.0095 or at Katherine(at)lakeconroe(dotted)com.