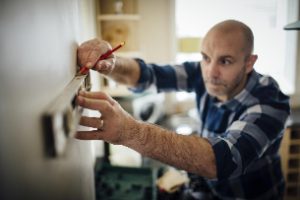 Purchasing the right materials for a remodeling project is a task that shouldn't be taken lightly – a single mistake can lead you to huge cost overruns. In the average remodeling project, about half of the entire cost comes from materials. If you're planning on going the DIY route, the best way to make the most out of your investment is to choose the best materials and products for your home.
Below, we give you a few helpful tips on how to find the best remodeling materials.
Be wary of buying off the shelf
Always inspect items that come off the shelf. If it looks as if it has already been opened or returned, avoid buying it – it may already be damaged, or parts may be missing.
You may be able to find excellent deals on quality products in your local home store, but be sure you know what you're looking for beforehand. For example, if you're searching for plumbing fixtures, the most durable ones are made of brass, and not plastic with a metallic appearance.
Do some research on products you're planning to buy
Look for customer reviews online on products you're planning on buying, and make sure they're current. There are many brands out there that spend more on advertising rather than making quality products, so it's best if you're armed with helpful information.
It helps if you know exactly what kind of material you're getting, and who to contact in case there are any unexpected issues.
Look for salvaged materials
You can get more affordable and better-quality building materials with character if you look for salvaged materials. You might be paying more money for labor costs, but buying salvaged is also an opportunity to support your local community.
Some of the best materials to buy salvaged are wood, stone, and glass. Also try to look for antique light fixtures – they may need some rewiring, but if you're successful, you get a great looking period fixture with character.
Look for materials early
Stopping projects because you need to wait for some materials to arrive can often be costly. If your materials are available onsite, your contractor can check its measurements and address any questions not found on the spec sheet.
If you want to safeguard your items during construction, you can store the materials offsite in a convenient location that can easily be accessed by your general contractor.
Ask builders for recommendations on lumberyards and showrooms
Any quality builder will have established relationships with trusted and experienced reps, so try to use the suppliers he or she can recommend to you. If you're planning to DIY the project, be sure to ask around and try to see if you can find good suggestions.
Support local products
Buying local products and supporting your region's economy is always a great move, and it can reduce your shipping costs as well. Local shops will usually not charge you extra for shipping, and will give you freedom to schedule deliveries. Shipments of materials you purchased online, on the other hand, can cause major problems should you run into issues regarding delivery.