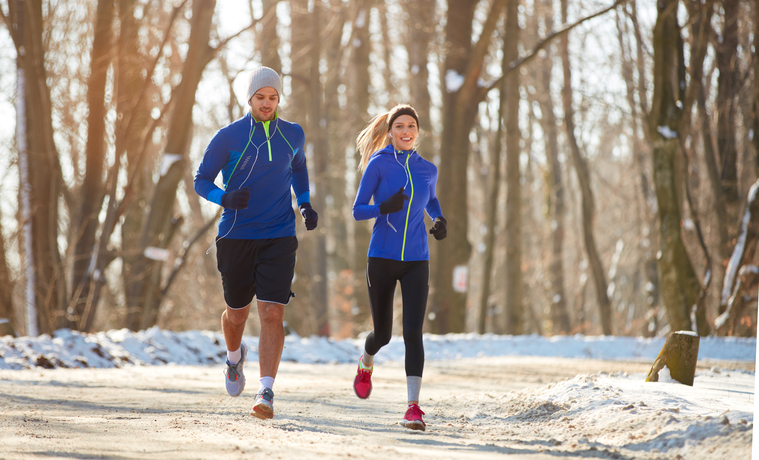 The transition from warmer to colder months is never easy, especially for people who love exercising outdoors. It's easy to take fitness for granted during the winter, as it can be very tempting to just curl up in your living room, grab a cup of coffee, and watch TV or read a book.  
Don't let the cold weather stop you from maintaining your fitness routine! All it takes is a bit of creativity and some basic equipment, and you'll be able to stay in shape even during the winter months.
Here are a few tips:
Change it up – You can actually use the weather to your advantage by changing your fitness routine, even when you're used to exercising outdoors. Get a membership at the local yoga studio or gym, or look for team or individual sports programs in your area. There are many budget-friendly programs organized by local municipalities throughout the country as well.  Many of these take place in community centers or local schools equipped with facilities for team sports like basketball, badminton, volleyball, and more.
Look for a workout buddy – Getting a workout buddy who can join you at the gym or on the trails will motivate you to stick to your workout plans, and it makes exercising a lot more enjoyable as well! After grinding through an intense workout, don't forget to reward yourselves with a healthy snack or a relaxing dip in the Jacuzzi.
Enjoy a winter sport – There are plenty of fun winter sports you can get into if you want to keep your blood flowing during the colder months. Once you find something you enjoy, it can help to keep in mind that that particular activity has an expiration date. You won't be able to enjoy it once winter is over, so be sure to make the most of it!   
Look for similar activities – Another way for you to stay active during the winter is to look for the equivalent of activities you love doing during warmer months. For example, if you enjoy hiking or going on nature walks, then cross country skiing might be a great alternative. Loved rock climbing at the local cliffs? Look for a nearby climbing gym to get your fix. Just look for any activity that will take you outdoors so you can stay active and get some sunshine, which plays a vital role in regulating our body's internal clock.
Workout at home – If you happen to find yourself stuck at home during a heavy snowstorm, then a fitness DVD or some of the many workout videos available on YouTube are the perfect solution. You can also take it up a notch by purchasing weights, a jump rope, resistance bands, kettle bells, a trampoline, a stability ball, or other types of fitness equipment. This is a great way for you to get a full body workout, especially if heading outdoors is out of the question. Get your family to join in too, so everyone can stay fit!