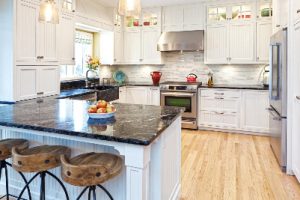 While it's mainly designed as a place for preparing and enjoying meals, the kitchen isn't merely a utilitarian space. It's essentially the hub of any home, where members of the family gather for meals, where most children study and do their homework, and where important family meetings sometimes take place.
If you're thinking about upgrading your kitchen this year, here are some of the latest trends:
Use of warmer materials
Kitchens using a white motif will continue to be popular, but there's an increasing use of warmer materials and a non-traditional approach. Kitchens are now seen as an extension of living and dining room spaces, so cohesive color palettes as well as materials are now being applied, fusing function with style.
Combining different metals
One of the hottest kitchen design trends to emerge this year is mixing metals. It's a less formal approach that reflects a more individual sense of style. While it might require an expert eye to identify what works, you can go ahead and try mixing cabinet handles, faucet finishes, chair legs, and other metal materials in your kitchen.
Upper cabinet extensions
Another kitchen design trend that's slowly gaining popularity is extensions of upper cabinets onto counters. This neat little space is great for storing small appliances, as many people do not want them on display most of the time. The kitchen island is built for storing items, but it's a bit impractical for small appliances as they're used daily on the counter. Upper cabinet extensions are a better solution, as they're a sleek design choice which offers practicality.
Warm tones for cabinets
Instead of the usual white or grey tones for cabinets, warmer tones such as mushroom, taupe, or "greige" (grey & beige) are slowly gaining more traction. These shades are best complemented by islands in different colors and stains. This combination is perfect if you want that slightly weathered appearance that makes it look as though your kitchen has "evolved" over time.
Combining wood, paint, and metals
Instead of the more clinical white on white kitchens, many people are now opting for more variety. Instead of using just one color for your kitchen, a variety of materials such as natural wood, metals, and paint are now combined to create a more polished look. Try adding texture to your cabinets by mixing light wood veneers with white lacquered surfaces, using chrome for your island or range hood, and just mixing it up.
Reclaimed Terra Cotta
Similar to the trend of using reclaimed wood, Reclaimed Rose Terra Cotta is great for those who want to achieve a modern farmhouse look for their kitchen, with its muted pinks and rich creams. They're best paired with industrial décor and oversized pendants to create a current, stylish appearance for any kitchen.
Dark finishes
Matte black finishes, black faucets, and burnished steel pendants are now being used for a sleek, modern appearance for kitchens. While kitchens bathed in white are still a popular choice, the use of black accents can serve as a great contrast, and can quickly revitalize dull-looking cabinetry.